5 Burgers You Need to Try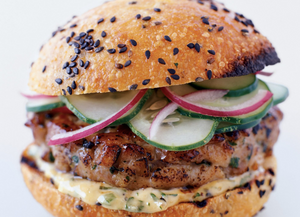 While the traditional burger will always be a staple meal in the American household, there are so many ways to spruce up your dish without relying on the standard lettuce, tomato and cheese. Whether the occasion is a backyard barbeque or an easy dinner at home, there are countless opportunities to turn a burger into a full-on experience. With over 20 years of experience and knowledge in the meat industry, we've curated a list of specialty burgers for you to make the next time you fire up the grill that are sure to taste as good as they look.
Jalapeño Burger
For those who love a bit of a kick to beef up their burger, we've got you covered. Turn up the heat with this fiery combination of pickled jalapeños, Worcestershire sauce, pepper jack cheese, crispy bacon and fried onions with a splash of BBQ sauce to seal it together. This Jalapeño Burger will electrify your tastebuds with savory notes and a powerful flavor presence that even the pickiest of eaters will enjoy.
Le Wagyu Burger
For a more refined take on burgers, opt for a Wagyu steak burger with components just as sophisticated as the meat itself. The Le Wagyu Burger pairs creamy Gruyère with fresh thyme, julienned onions, and a touch of Dijon mustard served on a brioche bun, making it both mouth-watering and appealing to the eye. These ingredients along with the rich and fatty profile of Wagyu beef trimmings will bring this burger to life. 
Thai Tuna Burger
Who said burgers have to be limited to beef? This Thai inspired dish allows you to get creative in the kitchen, searing a rich ahi tuna steak topped with various elements for a professional and unique take on the burger. Thinly sliced tuna topped with a freshly made cucumber salad, roasted peanuts, and an aioli mixing notes of ginger, garlic and lemon sounds like an excellent choice to kick your next meal and pallet up a notch.
Greek-Style Lamb Burger
Forego the bun and switch it up with a pita pocket instead to create a Greek-Style Lamb Burger for a fresh flavor and take on the typical burger. Ground lamb packed with Greek herbs and topped with tzatziki and fresh vegetables will make for a refreshing and healthy meal, especially once crumbled feta is added into the mix.
BBQ Chicken Burger
A combination of both sweet and savory, this BBQ Chicken Burger is destined to send your household into a frenzy. Amp up ground chicken with simple spices like paprika, onion and garlic powder to achieve a perfect char before adding your burger to the bun and topping with melted gouda, caramelized onions and plenty of BBQ sauce.
Photo Credit: © Tina Rupp
---