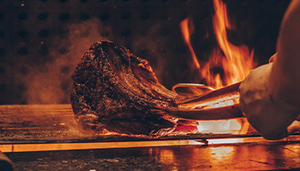 The best method for cooking your cuts, tested and approved by the Second City Prime team.
Chef Created, Second City Prime Approved
Whether you're a seasoned meat lover or are new to the art of craft, the reverse sear method is a go-to you can count on.

Chef J. Kenji Lopez-Alt, the James Beard Award–winning author of The Food Lab, is widely credited with crafting the reverse sear method. Initially created as a means to cook steak indoors, the method has proven itself efficient and easy, resulting in flavorful meals across a range of meats and cuts.
Reverse Searing, Step by Step
Set oven temperature to 250° F.
Season protein with The Rub or marinate with our Umami Marinade.
Place protein (beef, chicken, pork, or fish) on an elevated, perforated rack inside the oven to allow air circulation throughout.
Remove protein from the oven five to ten degrees before desired temperature of doneness. Always have a meat thermometer present.
Let protein rest for seven to ten minutes. Sear protein for one minute per side on a grill or oiled pan.
Slice and devour.
Make the Best Cuts Even Better 
Our blog houses recipes, tips, and inspiration to make every meal a venture into new, delicious territory.