Best Side Dishes for Different Meats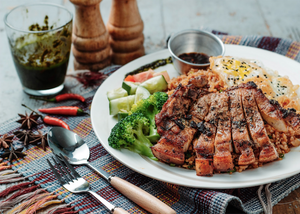 Excited about cooking your steak tonight? What about broiling your salmon for a tender and perfectly flaky seafood dinner? If you're ready to fire up the grill tonight, don't forget to whip up that scrumptious side dish you'll serve alongside a juicy piece of steak, beef, chicken, or fish! We've got you covered. Second City Prime is the leading distributor of the finest beef, poultry, pork, burgers, fish, and seafood. Check out our selection of the best side dishes to serve with our different types of meat.
Steak - Grilled Parmesan Broccoli
If you're searching for a vegetable that has the potential to upstage any meat it's served with, Grilled Parmesan Broccoli is the way to go. Broccoli is a perfect compliment to steak, but this twist on the rather bland vegetable is different: the broccoli is marinated with lemon juice and olive oil for maximum flavor, then generously topped with parmesan cheese. It's a side dish the whole family will love!
Salmon - Grilled Zucchini Strips
Have you decided to heat up the grill for some salmon fillets? Large Grilled Zucchini Strips are your salmon's best companion. Grilling zucchini is a great option to go with your salmon, as it adds a smoky sensation to the mild squash. For a tasty side, ensure your zucchini strips are tender and that the edges are charred. Then, you're ready to dig in!
Chicken - Roasted Tomatoes & Mushrooms
If you're roasting your chicken, why not give tomatoes and mushrooms a try? Earthy mushrooms and sweet cherry tomatoes come together to create a perfect pair to accompany your chicken! Cook them until they are caramelized, and then season with thyme and garlic. Drizzle some balsamic vinegar over your veggies and they're ready to be devoured!
Pork - Lemon-Ginger Spinach
If you're in the mood for pork chops, or any style of pork, choosing a side dish like Lemon-Ginger Spinach is the way to go for an excellent pairing. It's an easy to prepare side dish that boasts light and refreshing flavors the whole family will crave! Start with more spinach than you think you'll need, grab a knob of fresh ginger, and add a couple tablespoons of lemon juice. Those are the ideal ingredients for an enjoyable dinner!
Lamb - Lemon Butter Garlic Roasted Potatoes
Enjoying lamb tonight? Try Lemon Butter Garlic Roasted Potatoes on the side for vibrant flavors that pair extremely well with roasted lamb! Grab a few pounds of potatoes and combine them with melted butter, olive oil, lemon juice, and a couple of garlic cloves. As the potatoes roast in the oven, the lemon juice helps caramelize the edges. The result? Moderately tangy, garlicky potatoes that are topped off with a dusting of fresh oregano. It's an ideal side for your lamb dinner!
We hope you enjoy trying these tasty side dishes to go with your meaty mains. If you choose to create these dinner combos, be sure to snap a photo and tag us on Instagram,
@secondcityprime
! We would be thrilled to share your special dinner. Choose Second City Prime for all your steak and seafood needs! All Second City Prime Steak & Seafood Company products come individually vacuum sealed and frozen - guaranteed in your freezer for 6-12 months.
---