Bison, Mushroom, and Roasted Veggie Stuffed Peppers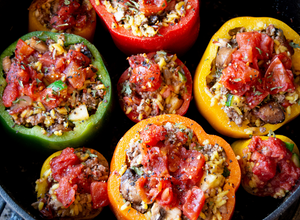 With Summer right around the corner, now is the time to break out the grill and start preparing for the coming backyard barbeque season! We've partnered up with our friends at Big Green Egg to provide you with amazing, colorful dishes incorporating Second City Prime's specialty game meat and Big Green Egg's all-in-one, versatile grill. 
Domestically raised, our Ground Bison is lean and packed with health benefits including high levels of Vitamin B12, making it a healthier alternative to beef, poultry, and even fish! Discover just how tender our ground bison is by recreating this recipe for your next meal.  
Ingredients:
3-4 zucchinis, cut lengthwise into ½" thick strips

2-3 whole medium carrots, washed and peeled

9 plum tomatoes, diced or (1) 28 oz. can of fire-roasted diced San Marzano-style tomatoes (drained)

2 tbsp extra virgin olive oil

2 tsp fresh or dried thyme 

Additional for garnish (optional)

2 tsp fresh or dried basil 

Additional for garnish (optional)

1 cup diced white onion

3 cloves of garlic, minced

8 ounces whole portabella mushrooms, washed and sliced

1 tsp crushed red pepper or chili flakes

Additional for garnish (optional)

2 cups cooked rice (yellow saffron rice recommended)

1 cup chicken stock

4-6 red, yellow or green bell peppers, tops cut off and seeds removed

5-6 mini, tri-color peppers, tops cut off and seeds and stems removed

2 cups shredded sharp cheddar cheese

½ cup grated or shredded parmesan cheese

Salt and coarsely ground black pepper to taste

Fresh parsley minced for garnish (optional)
Equipment: 
For this recipe, you'll want to use a dutch oven, a deep cast iron skillet, and a perforated cooking grid.
Directions:
First things first, you'll want to make sure your EGG is ready to go! Prepare the EGG for indirect cooking and set at 350°F / 177°C. Place your cast iron skillet in the EGG allowing it to preheat.
Grab a large bowl and throw in the zucchini slices, carrots and plum tomatoes along with 1 tablespoon of olive oil. Add in salt, pepper, and 1 teaspoon of thyme and basil each and toss all together.
Once your cast iron skillet is heated up, add the remaining olive oil, diced onion, garlic and a pinch of thyme and basil to it. After cooking for about 2-4 minutes, the onions should appear translucent which means it's time to add in your ground bison! Break down the ground bison into smaller pieces as it cooks and slowly add in the mushrooms and crushed red pepper. You'll notice your bison is fully cooked through once the juices are clear, which is how you can measure when to remove the skillet from the EGG and allow it to cool.
As the bison cools, take the seasoned zucchini, carrots and tomatoes and place them directly on the perforated cooking grid, roasting until tender for about 5 minutes. Remove the vegetables from the heat and let them cool before dicing them into small pieces. You can also use a can of diced fire roasted tomatoes as an alternative if you don't want to roast them. 
In another large mixing bowl, add in your cooked bison, rice, roasted diced vegetables, 2 cups of diced tomatoes, and ½ a cup of chicken stock. Add in the rest of the herbs, as well as salt and pepper to taste and stir gently to combine all ingredients. The remaining roasted tomatoes will be used to top the stuffed peppers. 
Time to stuff! Grab your peppers and stuff them halfway with the bison and rice mixture, adding a layer of 1 cup of shredded cheddar cheese before finishing stuffing the mixture to the top. Spoon the remaining roasted tomatoes to the top of each pepper to polish them off before placing your raw prepped peppers in the Dutch oven. Arrange the mini peppers between the larger, stuffed ones and cover the bottom of the Dutch oven with the rest of the chicken stock to be absorbed. 
After preparing the Dutch oven, place it on your EGG and cover it while it cooks. After 30 minutes, uncover and add the remaining shredded cheese as a final layer to cover the peppers and cook uncovered until the cheddar is melted. Once the cheese meets your desired preference, remove the Dutch oven from your EGG and let it rest for 5-10 minutes. 
Only one last step! Sprinkle the peppers with parmesan cheese and throw on your final garnishes including crushed red pepper, thyme and basil. Move the peppers from the Dutch oven onto your serving plate and lastly— bon appétit!
---