How to Prepare the Best Ribeye Steak Dinner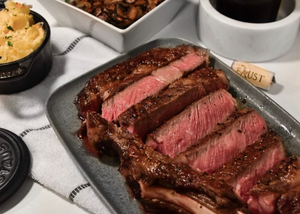 Just picture this… a beautiful starry night, stunning view, wind in your face, that special someone in front of you but... you don't have anything special prepared for dinner. That's where we come in! Second City Prime is the epitome of a high-quality meat delivery company, so we know a thing or two about cooking the perfect steak dish. That's why we are going to walk you through a step-by-step process of preparing the BEST and most delicious ribeye steak dinner for that special someone. Follow along below!
The first step to making the most unforgettable steak dinner is prepping the star of the show, also known as your Ribeye steak. If you're looking for something a bit more elegant, we suggest going with the Wagyu Ribeye for a beautifully marbled piece of meat. You're going to want to wait until the meat is completely thawed, then pat it dry, and season with salt, pepper, and 'The Rub' for some added flavor. Let it sit for about 10 minutes before placing it in your medium-high heat skillet. Cook in the skillet and flip every 3-4 minutes until edges are brown on both sides. This usually takes around 10-15 minutes. Next, you should reduce the heat to medium-low, this is where it gets exciting! Add butter, garlic, and rosemary in the skillet with your steak and start scooping it on the ribeye until the garlic butter sauce starts foaming. This process should take around 1 minute or until it reaches an internal temperature of 120 degrees Fahrenheit. A chef tip is to let it rest for 15 minutes before cutting into it so that the juices can fully settle and marinate. 
Now let's talk about side dishes! Any steak's partner in crime is always potatoes but let's add our own little twist to it. You will need 2 pounds of Yukon gold potatoes (peeled), 4 tablespoons of unsalted butter, ¾ cup of crème fraîche (secret ingredient), 1 teaspoon of salt, and ½ teaspoon of black pepper. From here, cut the potatoes into eighths and place them in a bowl of cold saltwater to marinate. Then, boil potatoes for around 15 minutes or until it's soft enough to poke with a fork. Place them in a bowl and start smashing until completely smooth! Add the butter and mix until it's melted, then add the crème fraîche. Make sure to season well with salt and pepper. Last but not least, you can't forget about the vegetables! Our top pick for this steak dinner is roasted parmesan broccoli, but any green vegetable works just fine. 
End the night with a couple of glasses of the best Cabernet Sauvignon for a deliciously dry red wine that pairs perfectly with any ribeye. But let's not forget about the dessert! (the best part) We have chosen the best dessert to eat after a steak dinner that is sure to impress you and your guests! Drumroll please… presenting the decadent strawberry cheesecake! This dessert is sweet and savory - perfect for any special occasion. Make sure to check out the recipe or buy it at your local cheesecake shop. Either way, we won't tell! Now all that's left to do is enjoy! 
This will be a night to remember if followed all the way through. If you decide to try this delicious ribeye steak dinner, please be sure to snap a picture and send it to us on Instagram,  @secondcityprime. We would love to share your special night! Make sure to fulfill all your steak needs with Second City Prime! All Second City Prime Steak & Seafood Company products come individually vacuum sealed and frozen - guaranteed in your freezer for 6-12 months. 
---