Meal Prepping with Second City Prime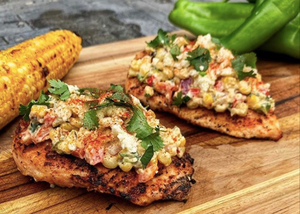 Meal Prepping - everyone always says they're going to stick to it but somewhere along the line happy hours and celebration lunches become just a bit more desirable. We've found a solution to this - Second City Prime! Trust us, when you have a meal prepared with Second City Prime meat, you're not going to want to save it for another day. Here's one way to meal prep your next Second City Prime order! 
Step One: Order either Ground Turkey or Ground Chicken, whichever is your personal preference. 
Step Two: Once your highly anticipated Second City Prime box arrives, unpack and separate the ground meat into three separate containers. (each will be prepared a little differently to add variety to your meal)
Step Three: Get to cooking! 
Container #1: Tacos Cook your ground turkey/chicken in a medium saucepan with olive oil and yellow onions. Once cooked through add in a tablespoon of chili powder, a teaspoon of salt, diced tomatoes, and a splash of broth or water.  
You can either eat this as a taco salad or inside a soft or hard shell. For easy grab & go, we suggest a taco salad. 
Divide the meat into two or three containers and add in your taco fix-ins: cheese, pico de gallo, lettuce, avocado, etc. Pro Tip: Drizzle a little bit of lime on the avocado to keep it fresh! 
Container #2: Pasta Bolognese Cook your ground turkey/chicken in a large skillet with olive oil, fresh garlic, and onions. While that's cooking, cook the pasta of your preference! Once your ground turkey/chicken is cooked through, add in diced tomatoes, tomato sauce, dried oregano, and parsley. Once simmered with these ingredients, toss with your pasta. 
Divide this into two or three containers and garnish with parmesan cheese and parsley. 
Container #3: Zucchini Boats Cook your ground chicken or turkey in a medium saucepan with olive oil, garlic, and onions. While that's cooking, cut two zucchinis down the middle and scoop out to form a boat. Drizzle with olive oil and sea salt and cook in a 450-degree oven for 15-20 minutes. On the stove, cook some jasmine rice and season to taste. 
Once everything is prepared, sprinkle a mixed shredded cheese into the zucchini boat followed by your turkey/chicken and rice. Top this off with a little more cheese, pico de gallo, and lime juice to taste. Put the stuffed zucchini boats back in the oven until all the cheese has melted. 
Divide the boats into two or three separate containers for your week's meals! 
Your three containers of Second City Prime ground turkey/chicken can go a long way for lunches and dinners throughout the week! Try this out and tag us in your meal prepping routines @secondcityprime.
---