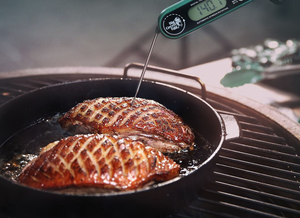 Whether you're a newbie to duck or a foie gras lover, look no further! This is the recipe for you. Get your legendary Big Green Egg ready to conquer the next challenge and bring a unique flavor to your next gathering. Grown in Hudson Valley, this delicate meat can be eaten with a spoon and leaves you wanting more. Unlike other meats, the Duck Breast contains healthy unsaturated fats, but still packs a bountiful hearty flavor. It's a magnificent source of protein as well as nutrients like iron and niacin. So indulge yourself with this succulent meat that won't kill the waist line.
Bring the taste of culinary perfection to your home with this fabulous meat prepared on the world famous Big Green Egg. 
If your starting to get hungry like us, read the full recipe below: 
Ingredients
4 tbsp olive oil

Kosher salt and pepper to taste

1 cup dry red wine

1 tbsp Worcestershire sauce

½ tbsp orange zest

½ cup fresh orange juice

1 tbsp unsalted butter

2 sprigs fresh tarragon for garnish
Equipment:
Method
Set your EGG up with the EGGspander convEGGtor Basket with one side direct cooking and the other side indirect cooking with a half baking stone at 375ºF/191ºC. 
Place the cast iron skillet on the direct side of the EGG right before you are ready to cook. Score the fat of the duck breast and season with salt and pepper. Add olive oil to the cast iron skillet and place the duck breast fat side down in the skillet and bring the temperature of the skillet up along with the duck breast to ensure a crispy crust. Cook for 10-15 minutes (or until the fat is golden brown). Flip and cook for 1- 2 minutes. Remove from the EGG and set aside. 
In the skillet, add red wine, orange juice, orange zest and Worcestershire sauce. Cook until the liquid is reduced by half. Remove from the EGG and add butter. Stir the sauce until smooth. Season with salt and pepper to taste. 
Last step. Serve the duck breast sliced with skillet sauce, topped with fresh tarragon as a garnish. Top it off with a glass of Pinot Noir to fully enjoy all the natural flavors and get the most of your succulent Dinner!
Enjoy!
---