Reap the Benefits of Specialty Game Meat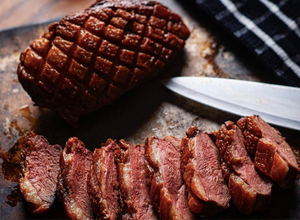 Fresh is typically a way to describe a fish that is caught, possibly cooked, and consumed within the same day or a few days of catching the fish. Fresh fish are commonly known as the best tasting fish you could eat. Well, the same goes for game meat - and "fresh" doesn't even do the meat justice. 
Game Meat: non-domesticated, free-ranging and farm-raised wild animals and birds that either are legally hunted for personal consumption or commercially sold for food. 
Game Meat encompasses many benefits to your overall health compared to most of the processed meat you find in many grocery stores. Read on to discover why game meat is the meat for you! 
It's Healthy
Game Meat is one of the healthiest meats available due to it being low in fat and cholesterol. It is also rich in Omega-6 fatty acids, making the meat a healthy source of good fat. The meat is engulfed with Vitamin E, Beta Carotene, Zinc Vitamin B(6) and Selenium. You can cast your worries aside for those with low iron levels as this meat is high in iron to support your body's vital functions. 
It's Natural 
Perfect for a Paleo diet, Game Meat is all natural and is free from hormones and additives. The natural diet gives the meat an even better taste. 
It is Actually Good for the Wildlife & Countryside
You might think..well you're hunting the animals so how is that good for the wild? The game industry helps manage the population of this wildlife which in-turn protects the countryside's crops and other non-game species. 
It Tastes Incredible & Is Easy to Cook
As soon as you take your first bite of pheasant, elk, or duck - you'll understand why we say it's so tasty. You'll never want to go back to processed, hormone-added meat again! Plus, because the meat is so lean, it makes it even easier to cook.
Second City Prime has a variety of specialty game meat to enjoy. Choose from duck, elk, pheasant, and bison - all of which have various different cuts and preparations. Stay tuned to our blog for various recipes to match your game meat! 
Show us your favorite game meat dishes from Second City Prime for a chance to be featured on our social media pages. Follow us @secondcityprime 
---