The Ultimate Wine & Meat Guide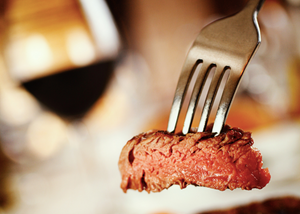 Are you looking for someone or something to just provide you with the perfect wines to pair with the right meats? Well, you're in the right place! With over 20 years of experience and knowledge about the meat industry, we've picked up on a couple things about the perfect wine pairings for each meat because there is truly no better match made in heaven. It takes time to be able to get the pairings right but that's why we're here to provide you with the ultimate wine and meat guide to help you impress any guest on any special occasion, holiday, or date! Follow the guide below and you will never fail to impress with your wine pairing knowledge!  
Wagyu Beefs 
There are quite a few different wagyu beef options available which means there are also a few great wine options that you can choose from to complement this type of meat. Since wagyu beef has a higher fat percentage, it is right to assume that wines that are more complex and layered would make the perfect fit! The wine pairings we recommend for wagyu beef is a classic and elegant red wine like Beringer, Cabernet Sauvignon, or Syrah. These wines are very smooth with a bit of sweet and savory spiked in - perfect for a wagyu steak dinner! 
Prime Beef Steaks
There are quite a few different types of prime beef steaks but we're going to focus on the NY Strip, Ribeye, Filet Mignon, and Skirt Steak. The first steak is the NY Strip which pairs perfectly with a fine red wine like the Cabernet Sauvignon. Then we move on to the Ribeye steak which is perfectly paired with one of the world's most popular wines a.k.a Merlot. Next we have the tender Filet Mignon that pairs well with the dry and silky Pinot Noir. Last but not least, the Skirt Steak goes perfectly with the zesty and flowery Sauvignon Blanc! 
Dry-Aged Beefs 
Our next type of meat group is dry-aged beef! Dry-aged beef is meat that has been hung or placed on a rack to dry for several weeks - making the meat more tender and flavorful. Due to the complex flavor profile of the cut - its special preparation and treatment commands a lighter wine like a Zinfandel or Cabernet Sauvignon. The Zinfandel is a sweeter wine which is a great contrast to the dry-aged beef while the Cabernet Sauvignon is more savory! 
Now it's official...you are now a certified wine connoisseur that can pair any wine with any type of meat! Whenever you need assistance please don't hesitate to look back on this ultimate wine and meat guide that will come in handy very soon! For any of your meat, poultry, or seafood needs make sure to turn to Second City Prime Steak and Seafood!
---