Bison Filet with Micro Kale, Sauteed Collards, and Red Pepper Puree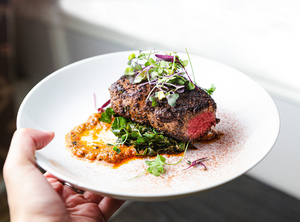 Ladies and gentlemen, prepare your pans for a guiltless healthy meal that still packs a traditional meat flavor, the Bison Filet with a side of collard greens atop a red pepper puree. Grown in Colorado, this center-cut bison is all-natural and free-range. Unlike other meats, the Bison Filet has a lower fat content and fewer calories. Yup, that means you can have seconds (or that extra piece of cake) without feeling guilty. Chef Gabriel Lewis has the special touch in making dishes that are health conscious AND delicious. Chef Gabriel's got you covered on the cooking side and we've got you covered with the premium Bison. 
Bring the taste of Chef Gabriel to your home with this dish and don't forget to top it off with Brightfresh's Micro Kale mix. Serve your Bison Filet and collard greens with a glass of Pinot Noir and give it your very own chef's kiss. Muah. 
If your mouth is watering like ours, read the full recipe below: 
Ingredients
For the Bison Filet:
Kosher Salt

Fresh Black Pepper 

2 Branches of Fresh Rosemary 

3 Cloves of Fresh Garlic 

4-5 Tbsp of Olive Oil
For Collards:
1 ½ cup Collard Greens (destemmed) - sliced thin

¼ cup Chicken Stock 

1 tbsp Garlic - Minced

Kosher Salt - to taste
For Red Pepper Puree:
1 Large Red Bell Pepper 

1 Clove Garlic 

2-3 tbsp of Olive Oil

Kosher Salt

Black Pepper 
For Garnish:
Brightfresh Micro Kale 

1 Fresh Lemon - halved
Directions
You'll want to start off with roasting your red bell pepper over an open flame on a stove until the skin is black. Be sure to use a cast iron skillet over medium-high heat if a gas burner isn't available. 
Then, remove the filet from the fridge and allow it to sit at room temperature, uncovered, for 30 minutes.
Cut the core of the bell pepper and place the flesh in a blender. Add olive oil, a pinch of salt, black pepper, and garlic clove. Blend until smooth. Adjust your seasoning to your liking and set it aside for plating. 
Pat filet dry and season with Kosher salt and black pepper. Place castiron over medium-high heat and add 2 tbsp olive oil. Once the oil is hot - Place the filet in the pan, pressing it into the skillet so the whole surface of the filet is seared evenly. Sear for 90 seconds to 2 minutes and flip. Lower heat to a medium-low and sear for another 90 seconds to 2 minutes. Add another 2 tbsp olive oil, garlic, and rosemary to the pan and baste the steak. Cook until it reaches 130 degrees and remove from the pan. Let rest for 5-7 minutes. 
While the filet rests, remove the garlic and rosemary and add minced garlic to the oil in the pan over medium heat. Cook for 10-15 seconds and add the collards. Coat in the oil and steak drippings. Add the apple cider vinegar and cook for another 20 seconds before adding the chicken stock. Allow the stock and collard greens to cookout. Adjust seasoning to taste.
Place puree on the plate, put the collards atop the puree, and place the steak on the collards. Top with your BrightFresh micro kale tossed in a squeeze of fresh lemon juice and you're good to go! 
Second City Prime Tip:
Grill the peppers and filet for an amazing depth of flavor. Contrasting the smokiness of the grilled flavors with the microgreens will give the plate incredible depth.
---